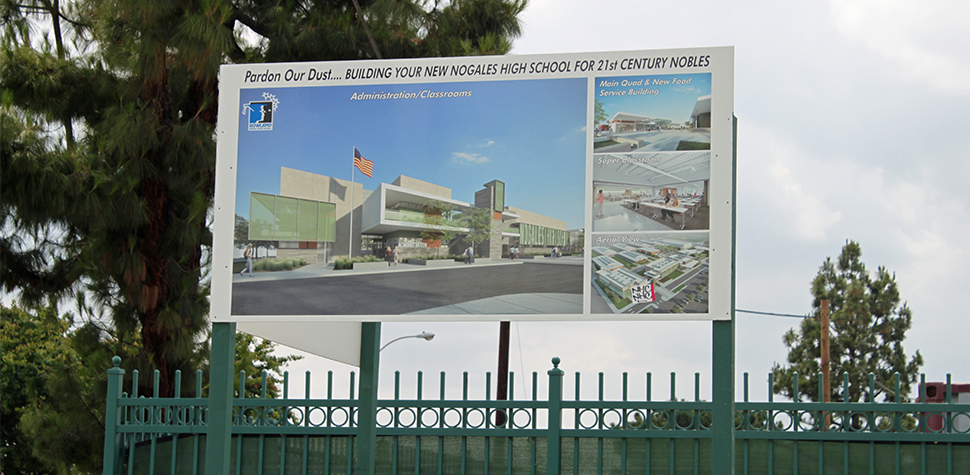 Rowland Unified School District
|
Hazardous Materials Consulting
---
Nogales High School Renovation
Rowland Unified School District provides education to  an estimated 15,000 students and eleven K-6 elementary schools, three K-8 Academies, two Intermediate schools, two High Schools, one Continuation High School as well as a Community Day School, it serves the communities of Rowland Heights, Walnut, La Puente, City of Industry and West Covina. Vista Environmental Consulting, Inc. (Vista) has been working continuously with the District for the last four years providing hazardous materials consulting services.
Vista performed hazardous materials consulting services as part of a school modernization project for Nogales High School (Buildings throughout the Campus). Known as "The Busiest High School" in the district, the school has many of the school board members and community leader's living within walking distance of this high profile school.  Our services consisted of asbestos and lead-based paint survey update testing and daily abatement monitoring during abatement and modernization activities. We provided all labor, approved material, equipment, supplies and supervision, necessary to perform hazardous materials consulting services.
The modernization activities included a full modernization to the interior and exterior (except for limited areas) including new underground infrastructure areas that extended the entire footprint of the proposed new buildings. Asbestos abatement activities were performed using the mandated South Coast Air Quality Management District regulations to remove asbestos cement pipe in soil. Abatement and daily monitoring activities were performed at a construction site within an active High School campus with occupied adjacent buildings.