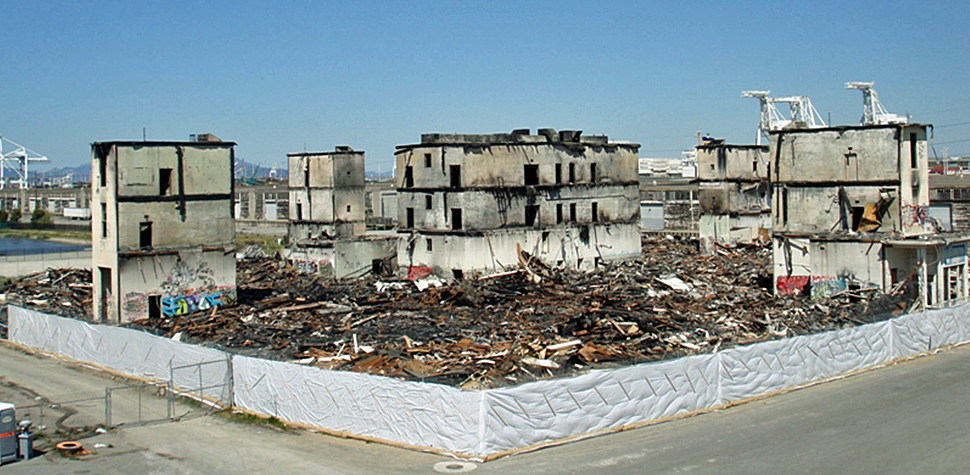 Alameda Naval Air Station, FISC
|
Emergency Response
---
FISC Hospital Fire Hazmat Response
A fire ravaged and destroyed a 210,000 square foot, three-story wood and concrete Hospital at the former Alameda Naval Air Station, Fleet Industrial Supply Center. This building was vacant and slated for demolition when it caught fire. The fire and windy conditions spread ash and debris containing asbestos and lead within the footprint of the building and ash and debris suspected to contain asbestos to the surrounding site.
Working with the City of Alameda, Vista Environmental Consulting (Vista) performed  hazmat emergency response and coordinated complex remediation efforts with the City, Contractors and Regulatory Agencies. Vista coordinated with the Bay Area Air Quality Management District to discuss clean-up efforts, and began environmental air quality sampling at the perimeter of the site and waste characterization sampling of the debris piles. We presented an alternative remediation work plan which was accepted by the Bay Area Air Quality Management District with minor alterations.
Vista observed remediation efforts and performed air monitoring during remediation. We also managed the manifests for the trucking operations of the waste, which averaged over 300 tons of per day, totaling 2,200 tons of RCRA Level Hazardous Waste. We also conducted final visual inspections and conducted clearance soil sampling after clean-up and remediation. We reviewed the application for the Brownfields Revolving Loan Fund Grant and assisted the City in the completion of the application by acquiring the necessary data needed for the approval from California Department of Toxic Substance Control. Over $200,000 was granted to the City to offset remediation costs.